Did you miss me? I missed you too.
Jill agreed that sleeping in would be a good idea so that's what we did. This was a rare morning where the bed didn't seem as bad or at least it didn't until we decided to get up and really the only thing that made us get out of bed was breakfast. We made it over to the food court before they switched to their lunch menu.
When we got to Epcot and did the locker thing a group of jerks clogged up the Spaceship Earth queue so we sauntered over to Test Track to get some Fast Passes for later. We weren't parched or anything but I suggested we stop be Club Cool because we've never done it.
They should call it Club Sticky Floor. I'll venture a guess that the people that don't make it to the food court in the morning to spill beverages on the floor there get their rocks off at Club Cool. The last time I encountered a floor that sticky it was accompanied by a motion picture. We'd heard about a beverage called Beverly which is apparently what they call tonic water in Italy. I wonder if they call sparking water, Audrey. I'll have to ask an Italian friend some time. It wasn't as bad as people let on though it would have been nice with a little gin. We tried them all but I don't recall being over the moon for any of them. I like a nice Dr. Pepper.
We were close to Captain EO so we checked it out. There was no line so we got our hip glasses and found a seat.
We missed the little "making of" video but not having to stand there was nice. The theater seats didn't move as much as they do in Anaheim which was nice but the lack of applause at the end was a bit disappointing. It's Captain freaking EO people. Show some respect.
We did the Finding Nemo ride again because I had forgotten the song at the end and wanted it back in my head. The dolphins were having a grand old time at the sea pavillion so I snapped a few photos while Jill looked at the manatee.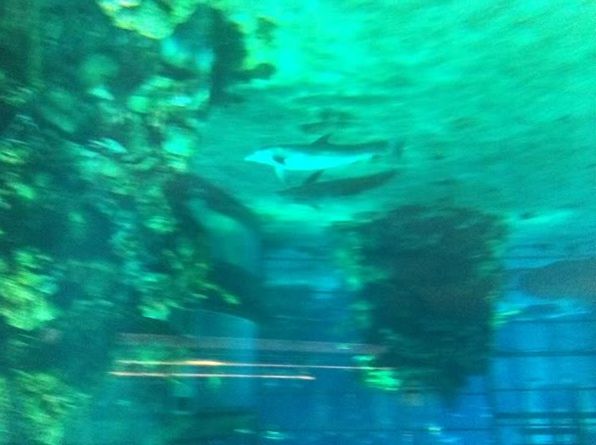 Am I the only person that gets nauseous looking through the glass?
All of that took about an hour which means it's time to cash in those Fast Passes and ride Test Track. We usually get a yellow car but today we got a blue car. This is a big deal for me because I hate yellow cars and drive a blue car. Hooray.
I really wish they'd switch Morocco and Mexico at the world showcase since I was getting a little tired of walking all the way over there. Yes, I know there's a boat. We planted ourselves on a bench since our lunch reservations weren't up yet. The place was pretty dead so we went to Restaurant Marrakesh and they let us right in. Jill went with her stand by but I decided to be adventuresome and got the Sultan's Sampler which wins the award for cheapest sounding entree in Epcot. The belly dancin' lady came out but a gentleman of additional circumference blocked my view. The two broads dancing this year were a bit on the skinny side. The dancer they had on our last trip had a rocking body. Before you scoff at me I'd like to point out that Jill agreed.
Afterward we slowly strolled around Morocco and snapped some photos. Jill didn't want to sit on the pillows but she humored me. I can only imagine how many sweaty people have sat there. Actually no, I don't have to imagine. I saw several.
While continuing our counter clockwise tour we saw the French guys setting up their show. We've seen it before and it's awesome so we watched it again. Unfortunately the weather had other plans. As the wind picked up the daring Frenchman climbed to the top and did this before they packed it in.
Anticipating rain we hung out by the tea shop while snapping photos of the English garden just in case we'd need to take cover.
The weather cooperated so we did some more wandering around Wee Britain. I sat in a comfy chair.
Then I had a staring contest with a mailbox. I did not win.
One of my favorite hobbies is finding an inconspicuous place to stand while Jill is in the restroom so I can take photos like this while she looks for me.
Canada is right next door so we went looking for Robin Sparkles merchandise but sadly they didn't have any.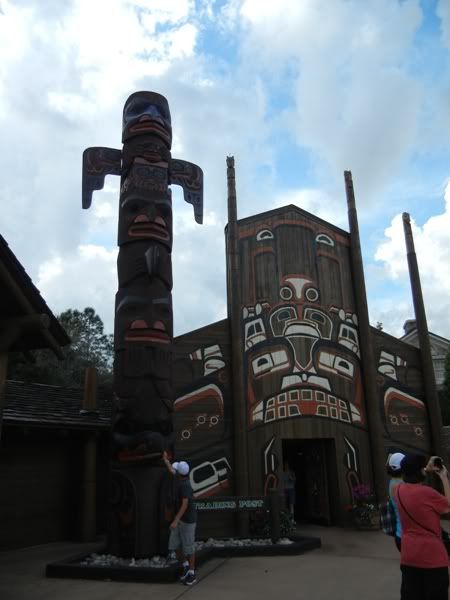 This is apparently modeled after a garden in Victoria, BC so Jill and I have decided we'll go there some day and by some day I mean probably never.
It rained for a brief moment then cleared up so we went back to the world showcase because we wanted to go on Maelstrom because it's awesome. On our way to the queue we saw a woman's butt cheeks compliments of very short shorts. Work it, girl.
Back! Back! Over the falls!!!
I'm not sure why they have a large building behind these hills. You'd think they'd just mountain it up the rest of the way so as to not spoil the illusion.
How do you top off five hours at Epcot? That's right, Spaceship Earth. It rocked if you were wondering.
I did the locker thing then we hopped on the Monorail to the Magic Kingdom because that's where it goes.
Peoplemover. I don't think I need to say anything else.
We cashed in some snack credits on a couple of sundaes which we ate near the castle while people watching. Not a single creep.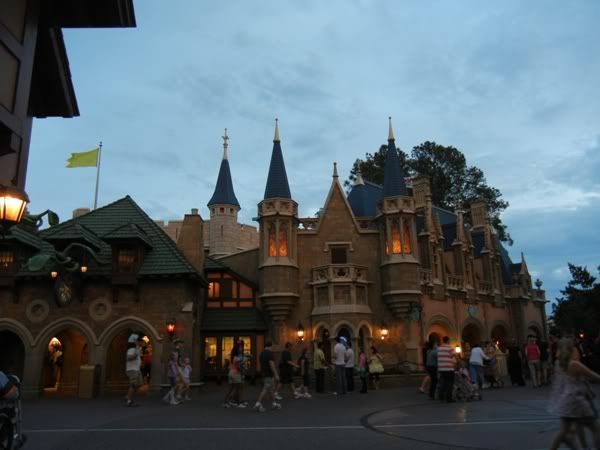 As the sun set we hit up the Haunted Mansion. It's a little refreshing riding the Florida version because not only is it a little different from the Anaheim version but you don't have to listen to every and I mean EVERY person in the haunted room talking along with the "Ghost Host." I try very hard not to do it myself.
Jill didn't understand how the stocks worked but rather than explaining it I just took her photo.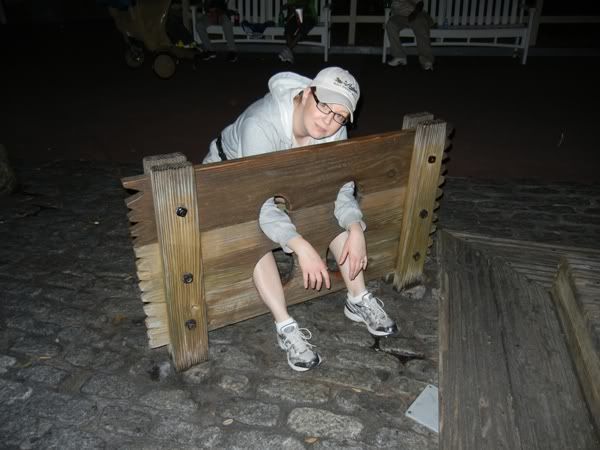 We got some roasted almonds and sat near the spitting camel in Adventureland for some more people watching. The camel did not disappoint as it nailed countless people.
There wasn't anybody waiting in line for Pirates so we took our time going through the queue and snapped some photos.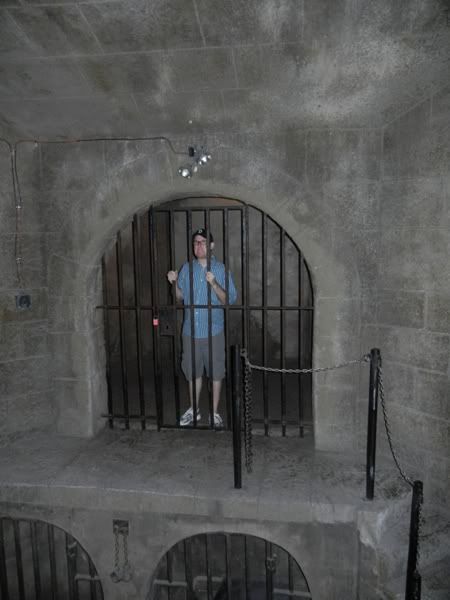 The park was really empty so we just wandered about and took photos. This guy cracked me up.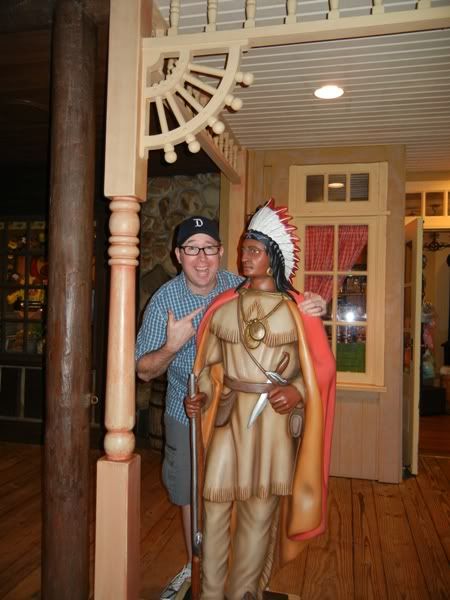 Jill went in for a kiss but he played it cool.
The fireworks started up shortly thereafter but we ignored them because they're boring.
It's little.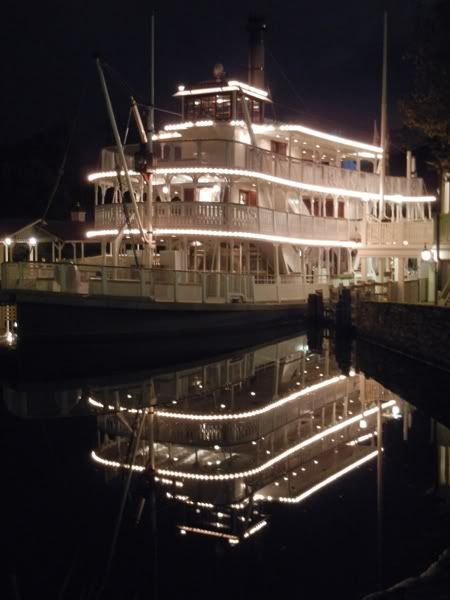 We couldn't leave without one last trip in a Doom Buggy. It did not disappoint. It wasn't enough to hold us over until we can come back but it was still great.
We decided that the Peoplemover was the high note we wanted to finish on. Thankfully it was open this time.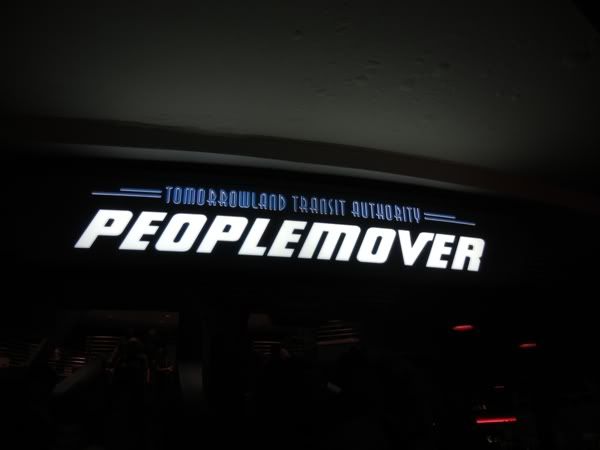 That did it for the Magic Kingdom on this trip. We took our time heading back to the buses because they suck. It was fried chicken night for "Mom's Night Out" back at the Pop Food court so I had something nice to think about while I stood for yet another bus ride. It's almost comical how slow we move when we're near the end of our trip.
Thanks for joining me. Day seven is coming up and it's a doozy.