Welcome back. Did you miss me as much as I missed you? I appreciate you taking the time to answer that.
It's a funny thing about our bed. In the evening it's the most comfortable bed in the world. The next morning it feels like a 30 year old futon someone found in an alley and filled with rocks. I made myself pretty and we were on our way to the circus known as the Pop Century food court. The usual assortment of mouth breathers were in the process of destroying the drink stations and moving the food from their trays to the floor.
This would scare normal people which is why it scares us. Jill gets her tea and I get what they call coffee before finding a table that some kid hasn't painted with syrup. We find a winner which means I can go get my food. Making my decision isn't very hard. I simply find the shortest line and order whatever appears edible. For some reason I decided I wanted fruit also so shoved my way to the refrigerated foods area that was clearly designed by an idiot. Jill then got her food but I didn't see it. It takes me awhile to prepare my dining area.
Once appropriately fed we hit the bus stop and headed off to Animal Kingdom. There was a girl sitting across from me with a gigantic booger in her nose. She was at least ten. I know all of the parks have intro music but for some reason this is the only one that gets my attention.
We got there pretty early for us. After grabbing a locker with the help of the least enthusiastic cast member I've ever encountered we made our way to Expedition Everest to grab a fast pass. I got them while Jill used the facilities. This is how we usually do it but this one is worth mentioning because she walked right past me after using said facilities.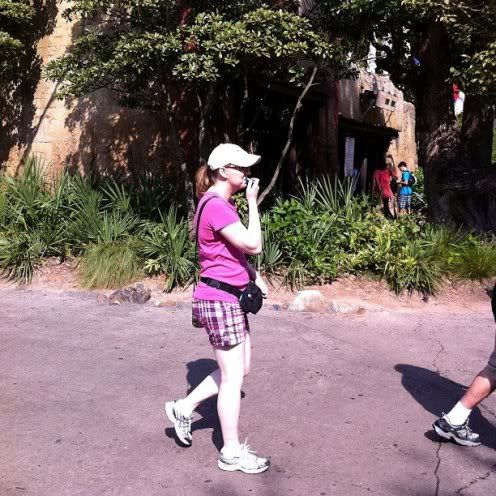 I had time to get out my phone and snap this.
Most people would head to Dinosaur but since we go during the off season we were able to pretty much walk onto Expedition Everest. We wait for the front because that's what we do. The yeti was still broken unless you don't know any better then it did exactly what it's supposed to do.
Dinosaur was next. I'm not a huge fan of dinosaurs or Phylicia Rashad. What a bitch. The best part of the ride is easily the photo area since there are usually one or two kids soiling themselves at the sight of the carnotaurus.
After that I grabbed a Fast Pass for Dinosaur which isn't a very creative Disney name if you ask me. I know it's from a movie of the same name but I think they could have come up with something cool like "Dinosaur Adventure" or better still "Crazy Scary Dinosaurs In The Dark."
Primeval Whirl is next. I'm not the biggest fan of spinning rides but it was pretty fun this time thanks to Bonine and the two very small girls riding with Jill and I. I'm sure I weigh about as much as the two of them combined. We did us some spinning.
We hit up Expedition Everest again. Yup. That's what we did.
We walked about for awhile and grabbed some soft pretzels to hold us over until lunch later. We didn't have reservations. We just prefer to eat when nobody else is eating so we can find a table easily. Damn. I want a soft pretzel now.
The worst part of Animal Kingdom is the horrible line for Kilimanjaro Safari. The only thing worse than the line are the tour guides. This was a day of surprises.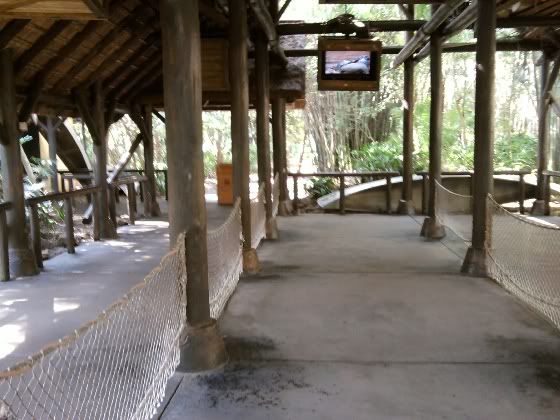 Yeah, no line at all. We walked right on and had an entire row to ourselves. Our guide was equally awesome. He had a radio voice which was stellar though he may have been a bit sick as he had to clear his throat often. You could tell he was very into the animals which were also out in full force. He quickly got the through the poacher bit or at least it seemed that way since we stopped often to look at an unusual concentration of animals. He did the baby elephant spiel but threw it away for the most part which I appreciated. What a great day.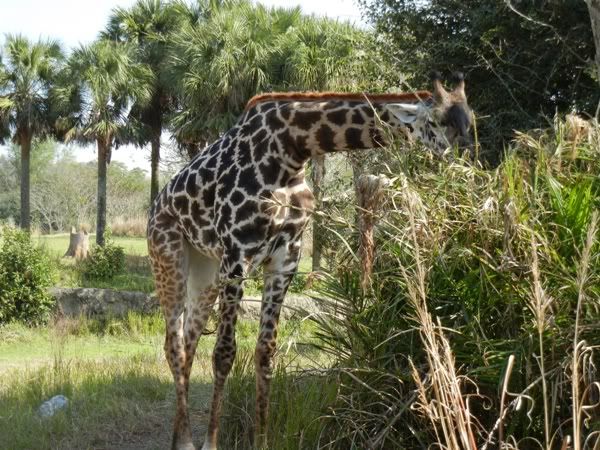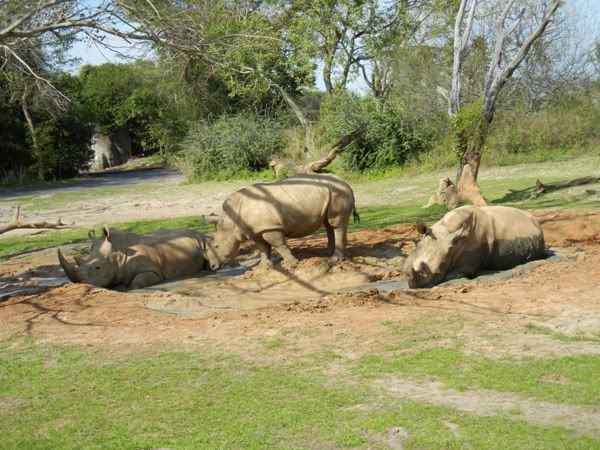 We did the safari trail afterward. There was a weird lady trying to get us to go back the way we came to look at a "baby" gorilla. I didn't have the heart to tell her that we have an awesome zoo in Omaha which recently had a substantially younger, baby gorilla and that theirs are kind of boring.
Lunch at Yak & Yeti both of which were not on the menu. I had Beef Lo Mein which was decent and filling. Jill had chicken and vegetables soaked in honey. The dining plan got us dessert so I decided to try the banana pudding. It was a little too sweet but the Nilla Wafer they stuck in it was pretty good.
We used our Dinosaur Fast Pass next. The carnotaurus didn't disappoint and did a good job of scaring pretty much everybody in our jeep thingy.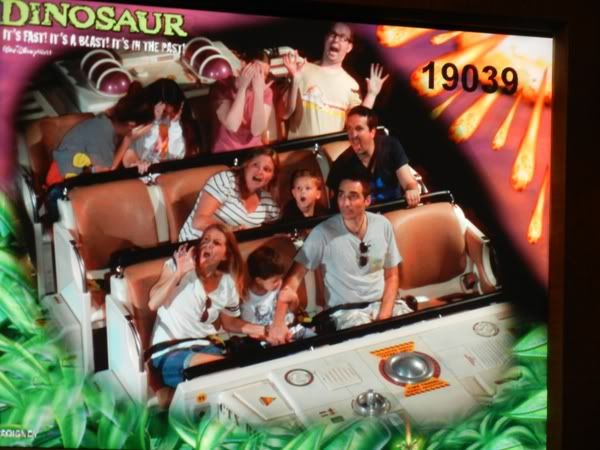 That just about did it for Animal Kingdom. We hit up the shops then headed out. The Magic Kingdom was next on our agenda. You can't take the bus directly to the Magic Kingdom so we skipped the express Monorail from the transportation hub and took the boat. They claim that the boats are not on rails but I think they are. Not sure if I'll do it again. I'm torn between my desire to get to the park quickly along and my desire not to crowd onto the Monorail.
I have a love/hate relationship with The Magic Kingdom. It's bigger than Disneyland but has less attractions. I like the different take on my favorite park but it's just not as good as its counterpart in Anaheim. We started out at the Haunted Mansion and spent some time in the new graveyard queue. I enjoyed it but didn't want to touch very much of it. The hitchhiking ghosts were also way more entertaining.
Check out the name on the organ. That's pretty swell.
Pirates was up next since Big Thunder Mountain was closed so they could make it more awesome for our next trip. I'm very fond of the salty old pirates but I can't help comparing it to Disneyland's which is a little bigger with better working animatronics. I still enjoyed it.
I have a thing for redheads.
Mine's better.
Keeping with the no line motif we took a Jungle Cruise. Our skipper was pretty awesome which is awesome because they're usually not very awesome. I like the blanks they fire at Disneyland over the recorded gunshots in Florida but the last dozen skippers we've had in Anaheim have been fairly awful and not in an entertaining way either.
We were done with that kind of fun so we headed over to Tomorrowland for a spin on the Peoplemover. Yes. The Peoplemover. Yay. This is one of my top five. The line was a little long but just because of the lazy bums allowing themselves to be moved by the conveyor belt. You're allowed to walk!!! It wasn't that long but I was still annoyed. Things were going well and just as we were being treated to the sights and sounds of Space Mountain the Peoplemover became the Peopleholder.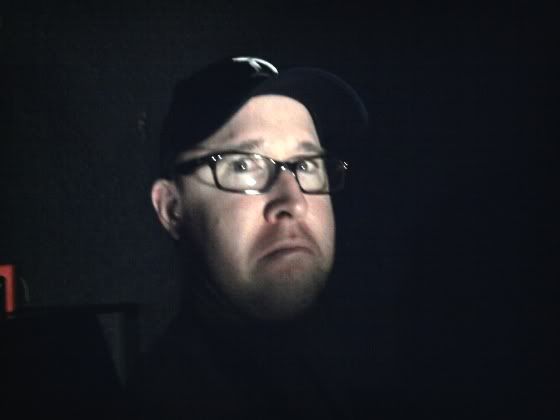 We sat in the dark for what felt like days. They finally took pity on us and turned on the lights. I think it made things worse.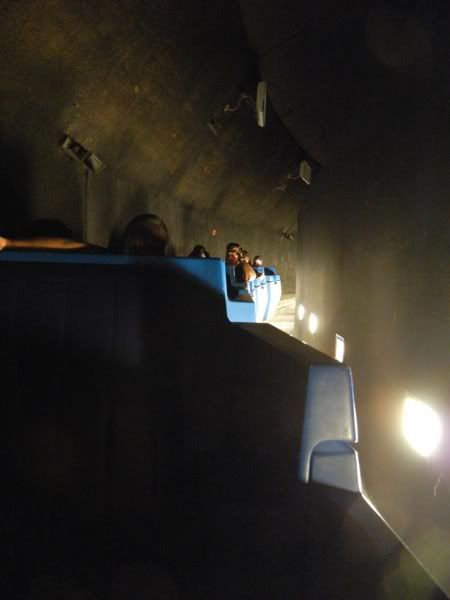 After several Tweets were on our way again.
That was it for us so we headed back to the dreaded bus. There's always about three buses worth of lines plus our loading area is the farthest one. I think we got seats which was nice. If I recall correctly this was our first trip with the world's worst bus driver. He's very slow in every aspect.
We grabbed dinner back at Pop then got hot chocolates and headed back to our room. It was like pudding so I tried dumping little bits and adding hot water. I eventually gave up and went to bed.
That's it for day two. I know you're excited about day three but you're going to have to wait until Jill does her day three since I can never remember the order in which we do things and I don't feel like looking at her notes.
So you won't miss me too much here is something to hold you over.
I think he's winking at me.