I decided that it wasn't right to keep you guys waiting so here is day number three. Better hit the commode before we start. I'll wait...
...did you wash your hands? *sign* I'll wait...
...did you use soap or just run your hands under the water? Just checking.
Jill and I got up pretty darned early and made it to the food court when everybody else did. It was madness. Jill decided she wanted toast. You'd think this would be dumb to mention but let me give you some background. I'm not complaining at all. I'm aware that Jill is capable of doing things for herself but strangely I don't mind doing things for her. Maybe I should give you some additional background. I go off on tangents from time to time. Deal with it.
I have problems with many if not most social situations. I love gatherings but I hate people. I've been described as a germaphobe but believe it or not I'm actually not afraid of germs even though I try to avoid touching as many things as possible. I regard the world as being covered in filth that has been placed there by other people. I know it's completely irrational but I just can't help it. What does this have to do with Jill and the food court? I'm getting there.
I consider it strangely therapeutic to run small errands for Jill at the food court even though I'd rather just sit at the table and prepare my breakfast. Anyhoo, Jill wanted some toast but they only hand out bread. It must be manually toasted using one of four toasters. Four toasters with four slots each. Consider the capacity of 640 guests in the food court that's a pretty sour ratio. That's 40 guests per slot or more realistically, 80 guests per bank since it's two slots per switch. I suffer the indignity of toasting my wife's bread for the sake of increasing my tolerance of the unwashed masses. That being said, this would be the last time I would be toasting her bread. All future trips will be restricted to utensils, napkins, and pepper.
We made it to the Magic Kingdom by 10am which is pretty stellar. We didn't really have a plan for today. Epcot was going to be open late so it would be our ultimate destination.
We like to open strong so we immediately hit up the Peoplemover since our previous encounter on Tomorrowland's most meaningless form of conveyance found us stranded in the dark for a horrific 20 minutes. This time went off without a hitch. The next logical ride for the seasoned Disney World vet would Space Mountain but that ride sucks. The Haunted Mansion promised plenty of laughs without the lower back pain.
Rarely imitated. Rarely duplicated.
We didn't want to spend too much time pondering which ride to go on so we just hopped on the nearest one. It's A Small World is an odd duck in Florida. I'm not keen on it being indoors and I can't understand why they did it that way. They're not exactly short on space. That being said it's very tidy.
We took a short stroll over to Adventureland where the Swiss Family Tree House remains in its glory. If you're bi-coastal you've no doubt seen what they've done to it in Anaheim.
Very quaint. Sadly, the Swiss Family latrine isn't as pleasant.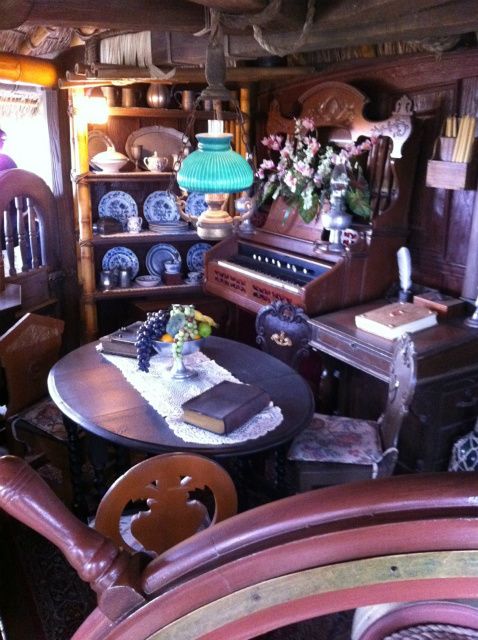 Without Big Thunder Mountain running we only have one ride worth Fast Passing. That was our next stop. Peter Pan is another one of those familiar yet different attractions. Disneyland vets will immediately recognize the long line but once inside will be surprised by the incredibly long loading area.
The ride itself is similar and a bit longer but again Disneyland wins with details. It's still one of my favorites regardless of which park I'm in.
We're burning through attractions today so there's time for a funnel cake. I got cinnamon and Jill went old school with plain old powdered sugar. Try to remain calm. We have a long way to go. After making a sugary mess of a table while gawking at a guy inhaling a sandwich and two girls in the neighborhood of ten years old stuffing into a double stroller.
We decided that we'd seen enough and meandered down Main Street before the train caught our attention. We did a grand circle tour which was very exciting. The guys working on Big Thunder waved at us. I was delighted.
I traded in our locker key for a stack of receipts and a fiver. We then wandered about trying to find out how to do the Monorail which was a little wonky that day. Jill figured it out and we were off to Epcot where a fresh locker awaited. I added two more receipts to my stack and gave back the five bucks.
Spaceship Earth is conveniently located so we went on it. Test Track is also fairly convenient but it had a bit of a line so Fast Passes were obtained. I had never been on Living With The Land so it was a logical choice. The ride was informative but the entertainment came from the group of foreigners in front of us with what was quite possibly the most obnoxious child I've ever seen. Every time somebody made an announcement over the loudspeaker to stop doing something or each time a "DO NOT" sign was passed he seemed to immediately do the contrary. He'll make his parents proud some day and by proud I mean he'll end up in prison.
Nemo was the next on our agenda or at least it would have been if we had one. Since I'm making comparisons with Disneyland here's another. I like this one because I don't have to share a bench in a submarine with a kid covered in Cheeto dust.
Grumbling tummies told us that Shawarma Platters would be good. Jill discovered that she's not over the moon for hummus but falafel is awesome. I had chicken and lamb.
America... #%@$ YEAH!
Appropriately stuffed we hit up the shops. Maelstrom's 20 minute wait was too shocking so we continued to check out the shops. This park is flipping huge.
It was Test Track time. For the first time in a long time we got a car that wasn't yellow. I have an aversion to yellow cars as they're usually driven by douche bags. This ride desperately needs a little re-theming or at least a tune up. I still love it.
Spaceship Earth was too close not to skip so back through time we went. Judy Dench sounds less and less warm every time we go on it. Jill and I have decided that we're going to find hidden Mickeys. We found a few but I swear there are more.
We went in more shops because they're air conditioned but sadly there is a long stretch in the wretched sun that has to be endured to get back to the World Showcase. I'm fond of the Boat Ride in Mexico. To be perfectly honest I don't know what it's actually called. All I really know is that the boats aren't big enough for me and I'm not that big. I don't let it ruin the ride for me. It's dumb and I love it.
It's very Blue Bayou in here.
We worked our way back around the world showcase looking through all the same shops again and snapping evening photos. This is one of them.
They started making announcements for Illuminations while we were at the halfway point. I really wanted fish and chips so we booked it. They were delicious. We enjoyed our table outside Rose and Crown in Wee Britain as we call it until the crowds cleared out. If you don't know what Wee Britain is you're missing out on one heck of an inside joke.
We went back to Morocco because let's face it, who wants to smell France? Jill had her obligatory Mint Tea but I changed it up with some boozy coffee. I should have had tea.
Since there weren't many people left except the drunkards staggering about we shopped our way back to Norway and took a spin on Maelstrom which left us feeling warm and fuzzy. Our feet told us we were done so we began the long walk back to the bus.
WHAT'S THIS? Spaceship Earth is still running? You better believe we're going on it again. Yes, this would be the third time today.
How you doin?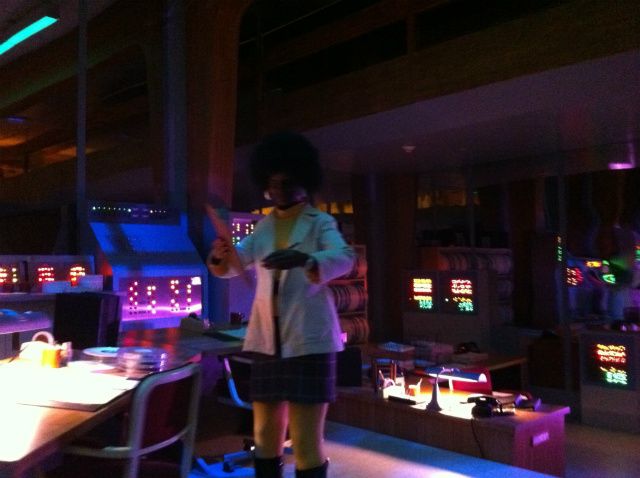 I emptied the locker and snapped a photo of the trash that spent the day near our locker. I don't know what's worse. The fact that not a single cast member checked the area or that there was a trash can mere feet away left me feeling a bit discouraged. Future world indeed!
We rode the bus back to Pop because that's how we get there. Guess who fell asleep without any trouble at all. Yup.
COMING SOON! DAY 4! LAZINESS! MONORAIL! POOP! SPACESHIP EARTH! MOROCCO!